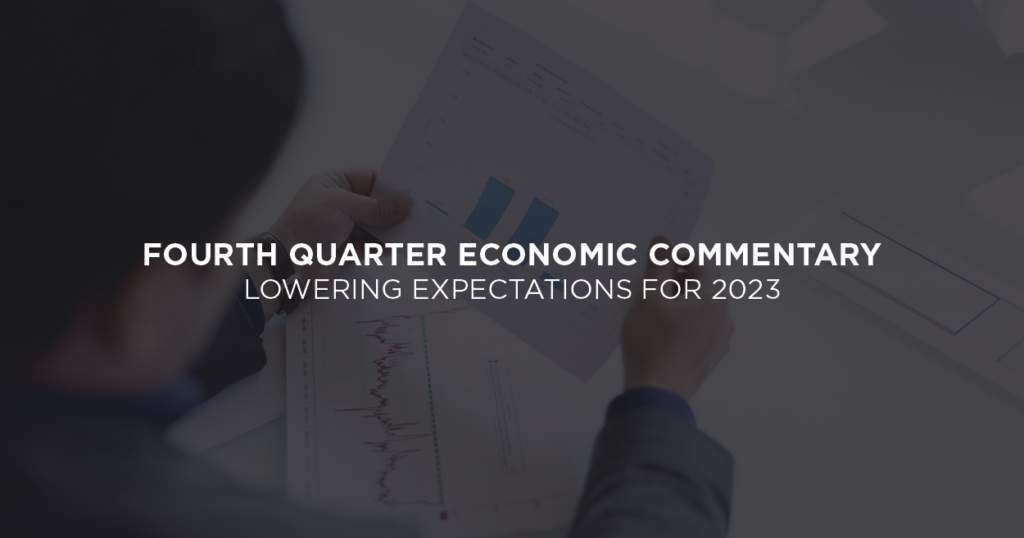 Fourth Quarter Economic Commentary: Lowering Expectations for 2023
The Federal Reserve released their latest projections for the US economy on September 21 indicating sluggish expected GDP growth (0.2% in 2022 and 1.2% in 2023), slightly increasing unemployment (rising from 3.7% now to 4.4% in 2023 and 2024), and annualized inflation above the Federal Reserve's 2% target until 2024.  Jerome Powell, the chairperson of the Federal Reserve, noted in his press conference that interest rates will need to further increase to combat inflation and that housing prices, one of the largest drivers of recent inflation, need to moderate. 
In other words, the rest of 2022 and 2023 could be choppy. . . 
Our June commentary highlighted our view that the risk of an economic recession had increased enough to warrant scaling back our investments in economically sensitive stocks, industries, and bonds.  Signs of economic weakness continue to appear, though much slower than we expected.  Moreover, signs of weakness are currently scant within the labor market.  This may suggest if a recession develops, it could be mild and impact Wall Street (stocks) more than Main Street (unemployment).  Here are a few items we're looking at to gather clues on how the economy will fare in the coming months. 
The Housing Market 
Mortgage rates, which have jumped from 2.75% to 6.75% since 2021, have pushed affordability to a new low.  For reference, this increase in rates translates into a $961 higher monthly payment on a $400,000 mortgage.  The plunge in affordability has manifested in fewer orders for new housing, as evidenced by building permits dropping 20.0%.  Existing home sales are also down 19.9% year-over-year.  Housing tends to be a good leading indicator for construction, banking, and the broader economy. 

The Yield Curve 
When people refer to the yield curve, they're referring to the difference between short-term and long-term interest rates.  In normal times, longer-term interest rates (e.g., yields on 30-year bonds) are higher than shorter-term interest rates (e.g., yields on 1-year bills).  Short-term interest rates can exceed long-term interest rates when recession risk is elevated.  This phenomenon is called a yield curve "inversion" and has been apparent since April.  Here are the interest rates on some widely traded government bonds as of September 30: 

A yield curve inversion is one tool economists use to predict recessions, but an inversion doesn't tell you when one is starting.  A yield curve which "un-inverts" with short-term rates sharply falling often coincides with the onset of shrinking economic growth.  
Lower short-term interest rates are not bad, however.  In fact, they're quite the opposite.  Though it may take several months to become apparent, lower short-term interest rates eventually spur economic growth and higher stock prices since they reduce the cost of borrowing and conducting business.  
Core Personal Consumption Expenditures (PCE) 
PCE is the Federal Reserve's preferred method of measuring inflation rather than the widely popular Consumer Price Index (CPI).  Powell discussed last week how the battle against inflation has been going thus far: 
"If you look at core PCE inflation . . . [on] a 3, 6, and 12 month trailing annualized basis, you'll see that inflation is at 4.8 percent, 4.5 percent, and 4.8 percent.  So[…]that's a pretty good summary of where we are with inflation.  And that's not where we expected or wanted to be."2 
Core PCE refers to inflation excluding food and energy and is more weighted toward things like shelter and services (rather than goods).  These "core" items will likely be what the Federal Reserve focuses on in the coming months, and any unexpectedly sharp decline in core inflation could be viewed as very positive news.  In fact, such news could give the Federal Reserve reason to stop raising interest rates, increasing the likelihood that economic growth strengthens in 2023 and onward. 

Final Thoughts: How to Prosper during a Recession If One Comes 
Recessions can be unpleasant, but opportunities abound for those prepared to take advantage of them.  For instance, we have clients who bought their dream home for a steep discount in 2020 or their dream car in 2009, and others who were able to travel the world for a fraction of the cost of what it would have cost when the economy was booming.  Even folks who kept contributing to their 401(k) plans and investment accounts during down years in global markets wound up purchasing stocks at lower prices and subsequently multiplied their account values in the years after.
Our goal is to help you navigate any potential economic or market uncertainty on the horizon so you too can take advantage of opportunities as they present themselves.  You can expect us to be in close communication as the economy and markets evolve in the coming months and, as always, our lines are always open at (412) 465-1490 for guidance on all things financial.
– Christopher Diodato, CFA®, CMT
Senior Portfolio Manager
Securities and advisory services offered through The Leaders Group, Inc. Member FINRA/SIPC and TLG Advisors, Inc. 26 W. Dry Creek Circle, Suite 800, Littleton, CO 80120, 303-797-9080. Union Bridge Capital is not affiliated with The Leaders Group, Inc. Please note that all trade orders are not accepted and are not acted upon by email, facsimile, voicemail or with unlicensed personnel. All orders must be communicated personally to your representative.